Reaching SDG-7 for clean cooking needs a staggering acceleration in the rate of change
For several years now, the International Energy Agency (IEA) has been warning that Africa will not meet SDG Target 7, that is, to secure 'Affordable, reliable, sustainable, and modern energy for all, by 2030'. In fact, given current trends in energy development and population growth, the continent will be nowhere close, certainly not in terms of clean energy for cooking in the home. This article looks at the potential role of LPG in helping to secure SDG-7 targets, and why this modern, abundant and adaptable clean fuel is not receiving the support and investment that the health and climate evidence suggests it should.
In its most recent Africa Energy Outlook report, published in June 2022, the IEA describes a 'Sustainable Africa Scenario' (SAS), setting out what will be needed to meet SDG-7 by 2030. Globally, 2.4 billion people still rely on wood, charcoal and kerosene for cooking, and although estimates from different institutions vary, the IEA reports that the resulting 'Household Air Pollution' (HAP) causes around 2.5 million premature deaths annually. In Africa, 80% of homes rely on solid biomass fuel, rising to over 90% in many rural areas. These patterns of fuel use are associated with some 500,000 deaths across the continent (2020).
In order to reach the SDG-7 target for clean cooking across Africa, the IEA's SAS envisages that by 2030, approximately 33% of homes would be using LPG, 10% electricity, 10% biogas and 6% alcohol fuels. This leaves 41% still using solid biomass fuels, but in cleaner, more efficient stoves (defined in the Africa Energy Outlook 2022 as meeting ISO Tier >1, page 118). But in order reach these projected levels, the acceleration required in the rate of change to clean, modern energy is staggering, with the IEA stating: 'Clean cooking access in sub-Saharan Africa needs to improve around 15-times faster over 2022-2030 than historic levels – an improvement rate unprecedented anywhere in the world'.
The reality for African homes switching to clean cooking fuels
If the foregoing sets out the challenge in terms of bare statistics, what is the reality for African homes who already want, or may be encouraged, to switch to clean, modern energy in the home?
The Kenyan woman featured in this photo (below) lives in a village near Eldoret in Uasin Gishu county. She has just started to prepare a meal on her liquefied petroleum gas (LPG) stove and, for a rural area, she is an early adopter of LPG in the home. Her stove is a single burner 'meko' type, fixed directly to the gas cylinder. She likes using LPG very much because it is quick and easy to use, and is clean – there is no smoke and her pots are not blackened.
But behind her in the corner of the kitchen is a traditional wood stove that she also uses regularly. This mixed use of clean and solid fuel (known as 'stacking') is common, and will result in the cook and other members of the family still being exposed to health-damaging levels of household air pollution (HAP).
The soot and tar on the corrugated iron walls of her kitchen are very apparent, and it is likely that her lungs are similarly affected, or will be as she reaches older age. This could be avoided if she were able to use the LPG stove (or another clean fuel), for all of her cooking. Many African governments, including that of Kenya, are committed to majority clean fuel use by 2030 or soon after, but as pointed out in the starkest terms by the IEA, the pace of change across sub-Saharan Africa has historically been far too slow.
Why is this? What is needed to speed up the switch to modern, clean, and efficient energy? The reasons operate at many levels, from international policy and prices, national market organisation and regulation, right through to the experience of individual homes such as the one illustrated here. We'll start with how this is experienced by households across Africa.
What are the barriers to wider use of LPG?
For a family thinking about switching to LPG, the initial expense of the appliances is relatively high, and without financial assistance can be prohibitive for many poorer homes. The household then has to cover the cost of cylinder refills every few weeks, depending on how much they need for cooking, heating water and other uses. For households that collect wood and other solid biomass fuel from the forests without payment, the cost of cylinder refills may seem terribly expensive. But if – as is increasingly the case – they are already buying wood, charcoal, or kerosene, the cost of using LPG may be no higher and in some situations actually cheaper. Many households do not realise this, and just assume LPG is more expensive because it is seen as a fuel for the better-off.
Households with low and irregular incomes can struggle to find the relatively large outlay needed for a 6 kg or 12 kg cylinder refill without some form of financial assistance. Help may be on the way however, in the form of innovative 'pay as you go' (PAYG) LPG technology that uses a 'smart meter' on the cylinder linked to the energy service provider via the mobile phone network and mobile money system (mPesa). These systems allow users to receive a full cylinder, but purchase only the amount of fuel they need for the next day or few days. A number of such PAYG programmes are now being tested in Kenya and Tanzania, and if the early acceptance and success are confirmed on a wider scale, may accelerate LPG access for millions of households.
Some users say they prefer the taste of food cooked using the traditional methods on a wood fire, and this is not infrequently repeated by those reluctant to promote LPG. Nevertheless, those habitually using clean fuels in both developed and developing countries find ways to prepare food that is acceptable, and there is no reason this will not become the norm across Africa and other low-income countries that have traditionally used biomass fuel.
Supply, safety and the recirculation model for LPG markets
People who have switched to cooking with LPG will understandably revert to their previous fuels if LPG is difficult or impossible to obtain when their cylinders are empty. So, it is vital that the LPG market in a country has sufficient infrastructure to produce and/or import LPG, store, distribute and sell it, and that there are sufficient cylinders in circulation to ensure these are always available when customers need them.
The Kenyan woman from Eldoret in the earlier photograph said that she was not afraid of LPG fires or explosions, but this fear is not uncommon in developing countries. Although such events are comparatively rare, when they do occur, they attract considerable media attention. This understandably discourages people from switching to LPG. So long as the market is correctly organised and regulated, however, LPG is a very safe fuel.
The key to ensuring an effective and safe LPG market is the so-called 'cylinder recirculation model', whereby marketing companies own the cylinders. When the customer needs a refill, they exchange the empty cylinder for a full one that has been checked by the marketer who is responsible for its safety. Once this system is in place across a country, and regulated to ensure compliance, the public can feel much more confident about using LPG. It is also important to educate households on how to use LPG safely in the home, including checking for leaks.
Progress against SDG-7 targets for clean energy in Africa
A Chinese proverb tells us that 'the best time to plant a tree is 20 years ago; the second best time is now'. The stark inequity in access to, and use of, clean household energy that still exists across the world today requires that the international community think and act with the same sense of urgency.
Almost 35 years ago, the late Professor Kirk Smith brought this problem to the attention of the world with his landmark review, Biofuels, Air Pollution and Health. In 2012, the World Health Organization convened an expert group to prepare Indoor Air Quality Guidelines on Household Fuel Combustion (2014). Extensive reviews of evidence on exposure levels and health risks led to the conclusion that the only way to secure the full health benefits of cleaner air for the billions of people worldwide still reliant on solid biomass household fuels and kerosene, was to prioritise clean forms of energy.
LPG, electricity (however generated, but especially through non-polluting sources), biogas, ethanol and solar thermal, along with natural gas where available, can all contribute to meeting household needs for clean energy. Among these energy sources, however, LPG currently offers the best combination of immediate availability and convenience. Affordability of LPG is also an important factor, and while it has been competitive with alternative fuels where these are purchased (e.g. wood, charcoal, and kerosene), recent international events (especially the war in Ukraine) have pushed prices up along with oil and gas. Energy price increases and fluctuations can be a major barrier to users, especially from poorer homes.
On the other hand, LPG is abundant (and likely to remain so for the foreseeable future), is popular as a cooking fuel choice, is very practical in terms of transport and storage, and avoids harvesting of forest resources for fuel. If prices can be stabilised, and innovations such as PAYG become more widely adopted, LPG offers the best option for making rapid and substantial progress towards the targets for clean fuel use in African homes that have been set by many of the continent's governments.
It is notable that in Kenya, the VAT rate on LPG has recently been halved from 16% to 8%, partly in response to pressure on the government to protect the health and other benefits of what had been a trend towards increasing adoption of this fuel.
There is, however, another important barrier to the wider promotion of, and investment in, LPG as a clean fuel for African homes. Unfortunately, the substantial contribution that LPG could be making is being constrained by the policies of development institutions and NGOs in wealthy countries, but not by a lack of evidence on the benefits to health and impacts on the environment.
Investment in LPG is being held back because it is a fossil fuel
Recent years have seen a growing reluctance among wealthy donor countries and their development institutions to promote and invest in LPG, because it is a fossil fuel. The evidence does not support this concern in the context of Sub-Saharan Africa, however. Comparative impact studies have shown that switching populations dependent on solid biomass to LPG would benefit health while having minimal effects on climate warming and protecting forests.
The impacts of switching to clean cooking across Africa on the climate may be surprising to some. In its Africa Energy Outlook (2022) Report, the IEA estimates that the SAS scenario could reduce greenhouse gas (GHG) emissions, although the balance sheet does depend on the renewability of biomass fuel harvesting, and on how electricity is produced.
A team from the University of Liverpool and CICERO (Centre for International Climate Research) in Oslo has investigated the health and climate impacts of implementing the ambitious LPG transition 'Masterplan' in Cameroon, which would see LPG use for cooking rise from around 30% to almost 60% of homes. The authors concluded that this large scale transition away from biomass to LPG could have 'significant positive impacts on population health with no adverse impacts on the climate'.
Also, as noted by the IEA and others, there are now encouraging prospects for renewability of LPG fuel through production of BioLPG, including through the use of sustainable feed stocks such as municipal waste. As BioLPG is chemically the same as fossil-derived LPG, it can simply be fed into existing infrastructure, bottles, and stoves. Although it will be some years before BioLPG production could meet demand, over time it will likely become an important renewable option for clean cooking. Fossil-derived LPG can serve as the best short- to medium-term solution, over time displaced by BioLPG and other renewable fuels as these become available and affordable.
Encouraging signs, but insufficient action and conflicting policy
It is encouraging that precisely this strategy appeared last year in UK government guidance (March 2021) on LPG as a clean cooking and heating fuel in developing countries. This report states (page 9), "LPG has a key role to play in providing access to clean cooking and heating, given its time saving and health advantages and relatively low emissions when compared with solid biomass, coal and oil, until the transition to renewable fuels is feasible."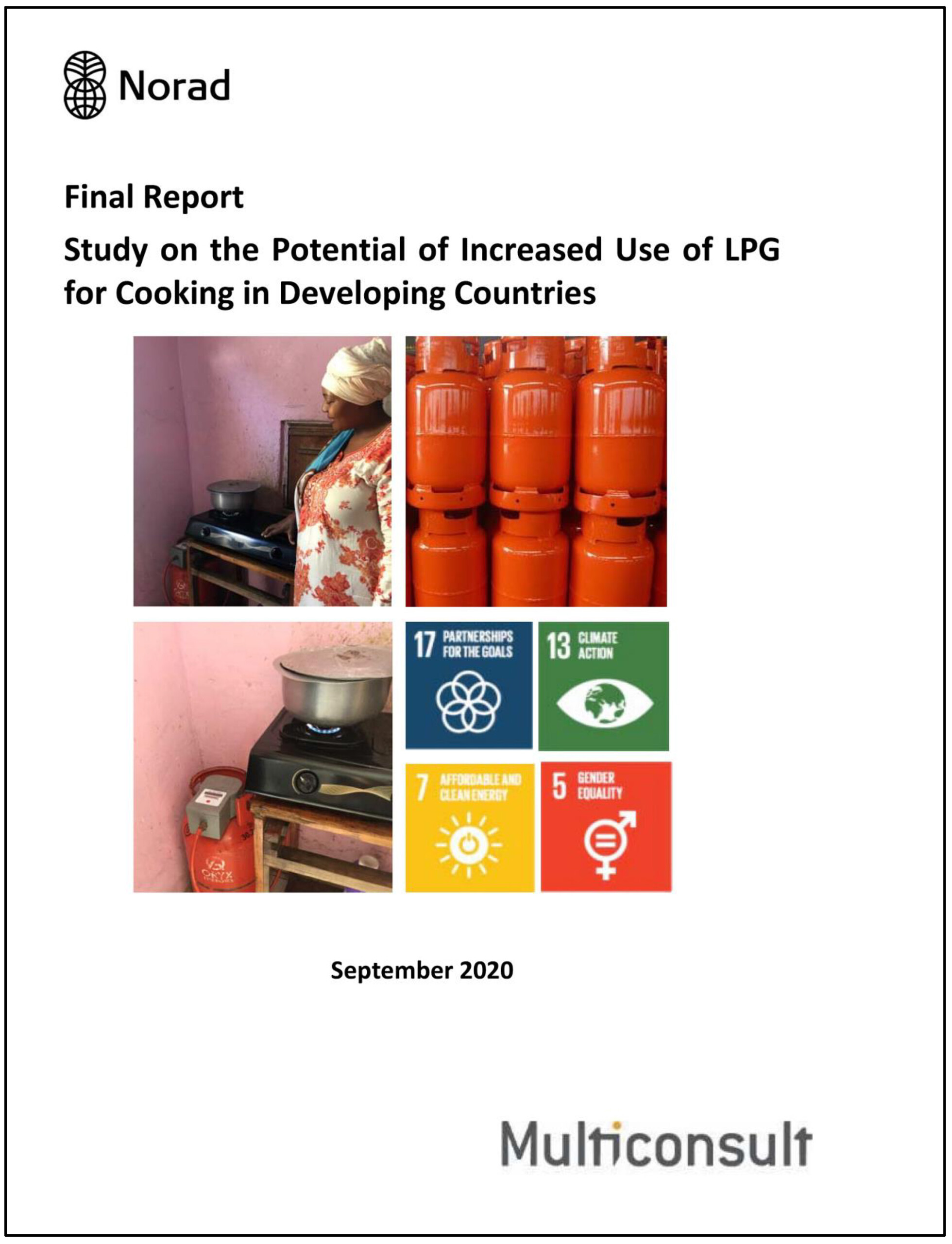 It remains to be seen how the UK Department for Business, Energy and Industrial Strategy (BEIS) applies this guidance in practice. Norad, The Norwegian Agency for Development Cooperation, has also been looking at the role LPG could play in the clean energy transition for developing countries, commissioning a report (Study on the Potential of Increased Use of LPG for Cooking in Developing Countries) and holding a webinar on the topic in January 2021. As far as this author can determine, including via direct contact with Norad and its partners, no concrete action has been taken following these initiatives, possibly due to positions taken on not supporting fossil derived fuels referred to above.
As an example of the potentially conflicting priorities of wealthy donor countries and policy for African homes, funding was recently announced by NEFCO (an international institution that finances the initial scale-up of Nordic green solutions on international markets) under a programme called the 'Modern Cooking Facility for Africa'. Under eligibility criteria, the call states that it will support cooking service providers' sales of electric, solar thermal, biogas and bioethanol stoves that meet [ISO] Tier 4-5 performance standards and briquette and/or pellet stoves that meet Tier 3 and above performance standards. It then adds: 'Please note that stoves using liquefied petroleum gas (LPG) are excluded from the MCFA1 funding round'.
NEFCO is an explicitly 'green' finance institution, so the focus on renewable energy is understandable. But this funding (first round) is directed at six countries, all of which are in Sub-Saharan Africa, namely the Democratic Republic of the Congo, Kenya, Mozambique, Tanzania, Zambia and Zimbabwe. LPG is excluded without any discussion of the role this fuel could play, its availability, affordability, or health and climate impacts, in comparison with the alternatives that are eligible. Nor is there any explicit comparison with the health and climate impacts from the alternatives (for example how electricity is generated), or the extent to which the listed eligible energy sources can meet cooking needs without stacking. In these respects, the initiative is in direct conflict with the stated policies on transition to clean cooking fuel of many African governments, and appears to be driven at least as much by the interests of a Nordic institution as it is by priorities for the health and development of Africans. Renewable solutions are of course also urgently needed, but seem unlikely to reach the scale required in the next 10-20 years, so should be developed alongside (not instead of) LPG over this period.
A more responsive approach to clean energy development policy is needed
Blanket policy on fossil fuels is neither helpful nor supported by evidence, and targeted support for LPG in Africa and elsewhere can be a part of an overall carbon reduction strategy within these countries, as well as internationally. Such an approach could have a big impact, because development finance linked to technical support from respected institutions has the potential to help create the conditions for safe and effective LPG market growth. This, in turn, can attract the generally much larger private investment required to meet the huge potential demand for clean household fuel from a rapidly growing African population.
There is no question that global restriction of GHG emissions to keep the temperature rise below 1.5 degrees Centigrade is an urgent priority. But in securing that vital goal for the planet as a whole, there are important questions of equity that should be considered. If any population group has a right to the now limited carbon budget the world can afford, it is the poorest people across Africa and other developing countries whose daily lives are still dependent on inefficient, polluting, and dangerous household fuels that already contribute to climate warming through products of incomplete combustion (e.g. methane, black carbon), and depletion of forest resources.
It is therefore encouraging to see that others working in this field are starting to argue for a more nuanced, setting specific approach. For example, economist Vijaya Ramachandran, Director for Energy and Development at the Breakthrough Institute, University of Berkeley, California, recently published 'Blanket bans on fossil fuels hurt women and lower-income countries' in Nature, articulating exactly these points.
And in another example, 'West accused of 'climate hypocrisy' as emissions dwarf those of poor countries' was the headline in The Guardian newspaper reporting in January 2022 on a study by the Washington DC based Center for Global Development. The research found that the average person in western countries such as the UK and the US produces hundreds of times more carbon emissions than people in low-income countries such as those of sub-Saharan Africa.
Our ongoing work in training Community Health Workers in Kenya to inform households about the risks from household air pollution and advise them on options for cleaner alternatives, reinforces the message that LPG is the fuel of choice. There is no reason why the carbon reduction strategies of wealthy countries, themselves still far greater emitters of GHGs than Africans, cannot accommodate the promotion of LPG for clean and efficient cooking across Africa and other low-income countries, alongside active investment in renewable energy sources that will, in time, replace fossil fuels for all of us.
The rapidly growing population of Africa desperately needs clean, modern fuels to meet everyday household energy needs. LPG can provide this for many, and evidence on the health benefits and environmental impacts supports the policies of many African governments in targeting rapid scale up in access to, and use of, this fuel. Development assistance should support, not hinder, this goal.
[This article was revised and updated on 11th October 2022]